Cloud Security Engineer at Wilhelmsen
Cyber security
Azure
Kubernetes
Terraform
IaC
{}

Position: Cloud Security Engineer
Location: Oslo, Lysaker / Hybrid
The maritime industry is at the cusp of digital transformation, and we at Wilhelmsen are here to shape the future. We are committed to shaping the maritime industry through our market leading products and services. We seek to pursue new opportunities in renewables, zero-emission shipping, and marine digitalization. We take innovation, sustainability, and unparalleled customer experiences one step further.
Through edge computing on vessels, autonomous ships, vessel performance management and onboard software for day-to-day ship management, we're going after the vast opportunities in this otherwise traditional sector. We have software deployed and actively used on a third of the world's merchant fleet, and we're not stopping there.
The opportunity
To reach our security ambitions, we are looking for a Cloud Security Engineer that will take the leading role in our security journey. The position will be part of a newly established team in Wilhelmsen Ships Service (WSS), and reports directly to the Head of Cyber Security. We can offer a wide array of security challenges and tasks and you will get to apply your trade in a very flat, unbureaucratic structure which allows for quick decision-making.
"The advantage of working in WSS Security team is the opportunity to shape your work and use your skills and talent to take the lead in company's security transformation. We can offer a wide variation of security challenges and the opportunity to work with modern tools and technology".
– Milan Stojkovic, Head of Cyber Security in Wilhelmsen Ships Service
Read more about our company here.
What we are looking for
Someone with a Bachelor's degree in Information Systems or a related technical field or equivalent experience
5+ years of combined experience in IT security/Azure is required
Experience in infrastructure security and Azure cloud security required
Expertise in container technologies, infrastructure-as-code, coding, identity and directory services
Deep knowledge of modern technology security practices around services, infrastructure, hosting and platforms
Experience in performing security/compliance reviews and architectural reviews preferred
Experience working as an engineer or architect on large enterprise projects
Enjoy both hands-on tasks and strategic overview
Self-driven and independent
Licenses & Certifications: 
AZ-900, AZ-500, SC-100, or AZ-300 preferred
Security certifications related to job functions preferred (e.g., CCSP, CCSK or GIAC)
What you will be doing
The Cloud Security Engineer will ensure that our cloud platforms are in line with corporate security policies and industry good practices. Acting as an efficient support to set security ambitions, with the opportunity to create a significant impact to both external and internal solutions.
Development and improvement of the overall security infrastructure for Cloud platforms
Work in conjunction with Cloud & DevOps Architects and Engineers, creating and setting Azure Policies, ARM templates, Terraform, AKS, etc.
Create, implement and maintain automated security posture and workload compliance monitoring, integrated with existing Security Operations solutions
Advise Product Teams, leveraging in-depth technical knowledge to secure cloud workloads and assess risks of the solutions they are delivering
Recommend and support the implementation of technical solutions to mitigate identified security risks
Support audit reviews and the implementation of processes for security and compliance policies
Support other areas of Cyber Security by providing expertise and architectural guidance for departmental projects
Contribute to RFPs, scope security programs, and assist in closing sales opportunities
What we offer
Working in Wilhelmsen can offer a culture and work environment of strong leadership, career development, work-life balance and a job that is both challenging and stimulating. Our organization thrives by using modern tools and is eager to utilize the business opportunities that comes with new digital tools and skills. Beyond this, we have benefits that include, but are not limited to:
Flexible working arrangements Unique pension plan with attractive employer contributions
Company cabins (Norway, Spain & Sweden)
Social events year round (wine tastings, cooking classes, yoga, dance, and rock- climbing lessons etc.)
Sports club membership that includes sporting and cultural activities (group training in our gymnasium, sailing, theatre, and concert tickets etc.)
Shopping discounts through the sports club membership
Interested?
Apply in the form below 👇 or directly to Thea Freeman
if you want to know more about the position or submit an application.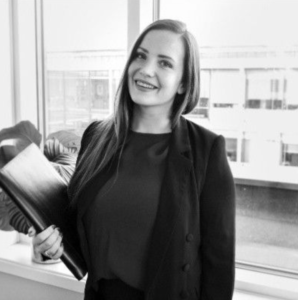 Thea Freeman
Senior Growth Consultant at Wilhelmsen
+47 413 21 544
thea.freeman@talented.no