UX Designer at Wilhelmsen

Position: UX Designer
Location: Oslo, Lysaker / Hybrid
The maritime industry is at the cusp of digital transformation, and we at Wilhelmsen are here to shape the future. We are committed to shaping the maritime industry through our market leading products and services. We seek to pursue new opportunities in renewables, zero-emission shipping, and marine digitalization. We take innovation, sustainability, and unparalleled customer experiences one step further.
Through edge computing on vessels, autonomous ships, vessel performance management and onboard software for day-to-day ship management, we're going after the vast opportunities in this otherwise traditional sector. We have software deployed and actively used on a third of the world's merchant fleet, and we're not stopping there.
The opportunity
We are looking for a UX Designer to bring our digital products portfolio, and take customer experiences with Wilhelmsen Ships Service to the next level. As our first in-house UX Designer, you will have a key role in shaping our digital products and how we as a department work with design.  
Wilhelmsen Ships Service Digital is a department that is passionate about developing software for the maritime industry and radically improving customer and user experiences. Our cross–functional teams consist of product managers, software engineers, data scientists and other digital–minded people. Since we are a small and newly established team, you will be able to influence your role and how we work in the future. 
Read more about our team and our digital products here.
What we are looking for
Education within design. Experience can compensate for lack of education 

 

Fluent in Figma




 
The ideal candidate is someone who wants to work hands-on with design, while having a bird's-eye view and thus ensure good and consistent experiences across our digital products. We are looking for someone that is passionate about good design and eager to share knowledge with others. You want to constantly learn and therefore welcome constructive feedback from both users and colleagues.  
What we offer
A central role in a company that is shaping the maritime industry
The tools you need and love
Competitive salary and an attractive pension plan
Flexible working hours and location, working in a young and self-driven team
Global travels, port visits and vessel sailing opportunities (we have presence in more countries than the Norwegian Ministry of Foreign Affairs)
Company cabins in both winter and summer locations
Our very own sports organization for employees, WIL, with activities such as kayaking, squash, football, yoga and much more (pub-crawls and skiing-trips)
Gym and indoor court in the basement of the offices (football every Friday at lunch)
Perks like a paid mobile subscription and health insurance
How we work
We believe in autonomy and variation in our work – as a UX Designer in Wilhelmsen your work will include some of the following:   
Encouraging the team on design thinking to improve user experiences

Engaging with customers and users to learn their world and understand their needs 

Collaborating closely with software engineers, product managers and other designers 

 

Creating wireframes and prototypes 

 

Mapping user journeys and lead workshops and ideation sessions 

Maintaining our design system and ensure quality in the design 

 
Interested?
Apply in the form below 👇 or directly to Thea Freeman
if you want to know more about the position or submit an application.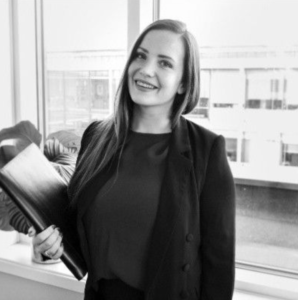 Thea Freeman
Senior Growth Consultant at Wilhelmsen
+47 413 21 544
thea.freeman@talented.no