Open position at GodtlevertGruppen
Frontend Developer
React
NextJS
{}

Position: Frontend Developer
Tech stack: React, NextJS
Location: Oslo
GodtlevertGruppen was established in Norway in 2008 and is a market-leading company in food tech in Scandinavia. In Norway, Sweden, and Denmark we are known for our brands such as Godtlevert, Adams Matkasse, Linas Matkasse, and RetNemt. We are an international company with large operations in Norway, Sweden, and Denmark with growth ambitions for European markets. 
All together GodtlevertGruppen delivered 23 million dishes to its customers during 2022. We are a small and nimble company, working in a high growth online food market, with profitable operations and stable financials, but we are best known for our customer experience. The recipe for this is our use of data-driven methodology and focus on sustainability throughout the supply chain.
The team
You will join a tech department of 30 people, of which 7 are frontend developers. In addition to this, we have about 15 consultants working with us. We are big enough to have structure, opportunities, and delivery capabilities, while we still are small enough to have an agile, quick-to-react culture with a low organizational hierarchy. It is important to us to be able to have a personal connection between colleagues. We build our own tech. This gives us a unique advantage when it comes to customization, owning, and leveraging our data. We use state-of-the-art technology which is a 100% cloud — React-based front-end stack with no legacy code or databases from the last century.
The position
In this role, you will be given the opportunity to be at the front of development in the GodtlevertGruppen. You will be part of creating a good structure and finding new solutions to strengthen the product. You are going to work actively with interactions on the customer side and always try to optimize the digital customer experience. We want the customer journey to be smooth and painless and aim to ensure that our frontend solutions are updated to the newest web standards at all times. This includes creating new components and making sure cross-site solutions are up to date. The work is usually organized in sprints or other agile work processes, and the team is great at internal knowledge sharing.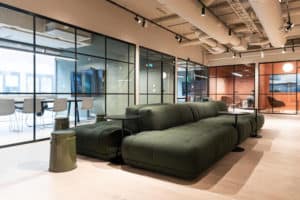 Some of the technologies you will work with 
We use React/NextJS in our projects.

 

Redux, Sanity.io, TailwindCSS, and GraphQL. 

It is an advantage if you have some experience with app development in React Native.
You 
It's ideal if you have experience working with front-end for a few years, but the most important factor for us is that you are eager to learn and develop yourself. We hope that you are self-driven and a good team member, and like to share your knowledge with others. It is important that you are solutions-oriented and customer-focused. If food tech is particularly interesting to you, that is of course great!
We offer
Fantastic culture, with an entrepreneurial, can-do attitude. Fun and outgoing people who are always down for some socializing

Youthful environment where we celebrate each other's success

Company that is data-driven, and uses machine learning in everything from helping the customers choose dishes to optimizing the picking order of products in our production lines

Exciting and challenging professional environment. You get to be part of a company that offers clear professional and personal development opportunities, for example in the form of courses and arrangements

Professional freedom and flexibility to choose the way you work

The possibility to shape the everyday life of our customers by making their lives easier and less stressful through the use of our services

Brand new inspiring office in the heart of Oslo

Possibility to choose your preferred tools for working
Do you want to know more about the position, contact Svein Sørensen.  Apply by filling out the form below 👇