Cloud & DevOps Engineer at Wilhelmsen
Azure
K8S
IaC
PaaS
Cloud native
{}


Position: Cloud & DevOps Engineer
Location: Oslo, Lysaker / Hybrid
The maritime industry is at the cusp of digital transformation, and we at Wilhelmsen are here to shape the future. We are committed to shaping the maritime industry through our market leading products and services. We seek to pursue new opportunities in renewables, zero-emission shipping, and marine digitalization. We take innovation, sustainability, and unparalleled customer experiences one step further.
Through edge computing on vessels, autonomous ships, vessel performance management and onboard software for day-to-day ship management, we're going after the vast opportunities in this otherwise traditional sector. We have software deployed and actively used on a third of the world's merchant fleet, and we're not stopping there.
The opportunity
In Wilhelmsen you will work with Azure, IaC, K8S and a cloud native approach. You will take part in our Greenfield journey and have a key role in shaping our future Azure cloud footprint. We are working for a truly automated, cloud native and CI/CD led environment.  
"Since most of our cloud journey so far has been limited to a lift-and-shift, this is a real opportunity to impact the true use of cloud for the future, maximizing its impact on the business!"
– Alexander Koch, Head of Cloud & DevOps in Wilhelmsen. 
We are committed to shaping the maritime industry into its new – more digital era. As a Cloud and DevOps Engineer in Wilhelmsen you will be able to focus your efforts on the more exciting work. The team has a responsibility to maintain the platform used by our developers, and large groups of users both internal and external. Additionally, we provide support for teams refactoring their applications to ensure they can run smoothly on the platform. 
Read more about our digital journey here.
What we are looking for

We are looking for someone with experience running a production Kubernetes environment, preferably in a larger enterprise. Bonus if you have experience working closely with engineers as well as business stakeholders, translating your language to theirs. While you will not be doing all the engineering yourself, you will be able to build credibility and provide technical leadership over an estate that will need refactoring. 
As a required set of skills, we are looking for 
Experience running Kubernetes in a production environment

 

Experience with Infrastructure as Code, be it Terraform, ARM, Pulumi or any other flavor

 
Additionally, it is a huge benefit with experience in the following areas: 
SaaS, PaaS, IaaS and virtualization services

 

CI/CD pipelines

 

Monitoring and observability

 

Cloud management and delivery

 

Cloud security

 
What we offer
A central role in a company that is shaping the maritime industry

 

Competitive salary and an attractive pension plan

 

Flexible working hours and location, working in a young and self-driven team

 

Global travels, port visits and vessel sailing opportunities (we have presence in more countries than the Norwegian Ministry of Foreign Affairs)

 

Company cabins in both winter and summer locations

 

Our very own sports organization for employees, WIL, with activities such as kayaking, squash, football, yoga and much more (pub-crawls and skiing-trips)

 

Gym and indoor court in the basement of the offices (football every Friday at lunch)

 

Perks like a paid mobile subscription and health insurance

 
Interested?
Apply in the form below 👇 or directly to Thea Freeman
if you want to know more about the position or submit an application.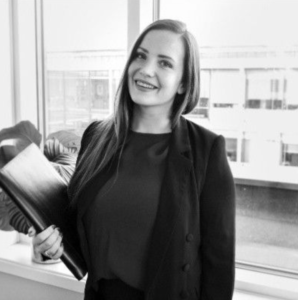 Thea Freeman
Senior Growth Consultant at Wilhelmsen
+47 413 21 544
thea.freeman@talented.no